15th Annual Carlson MBA Charity Auction
February 22 @ 7:00 pm

-

11:00 pm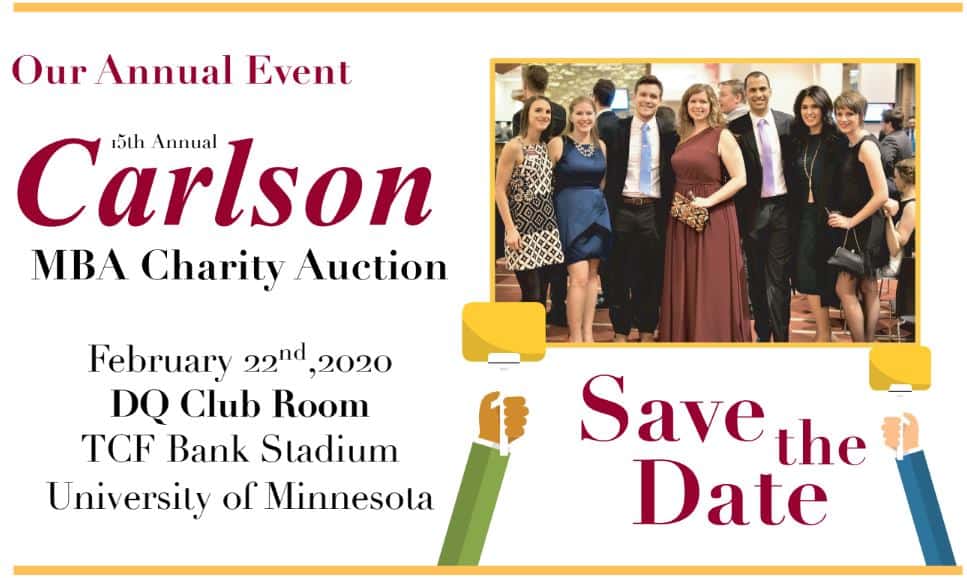 The Carlson for Community Charity Auction—Carlson's biggest event of the year—is the only event that brings together the entire CSOM community of Full-Time, Part-Time, Online, and Executive MBA students, as well as faculty, alumni, corporate sponsors, and community partners. Don't miss out on this great experience!
This year, Carlson for Community (C4C) is raising funds for Avenues for Youth. For 25 years, Avenues has supported young people, ages 16-24, in Hennepin County. Whether a young person needs someplace to stay for just one night or a year and a half, Avenues empowers each of its beneficiaries to find their path out of homelessness. Avenues does that by providing a stable home, building trusting relationships, and navigating the youth's goals for education, career, health and wellness, and housing.
At Avenues, they believe:
– Homelessness does not define a person. It is just one part of a journey that we are here to help young people navigate.
– All youth experiencing homelessness have experienced or are experiencing trauma. Therefore, mental health is at the center of our work.
– There is no one reason why youth experience homelessness – it's intersectional. Systems of oppression, racism and poverty are among the root causes of homelessness. Without addressing these systems, homelessness will persist.
– Youth are resilient, inspiring, and the drivers of their own journey. With stability, trust, and youth-centered supports, their dreams can become reality.
All Charity Auction proceeds go to this incredible organization!