"My dream job is to work at a hospital full of little children." -Hawa
Avenues for Youth partners with youth experiencing homelessness to achieve their dreams. Avenues Dream Maker Society provides a lasting impact on the lives of youth and a financial foundation that ensures our work with youth continues. Dream Makers are a group of individuals, families, faith groups, civic groups and businesses that commit to donate $1,000 or more for two or more years, just $84 a month.
Dream Maker Benefits
New This Year - Invitation to a virtual coffee with the executive director and opportunity to hear from former youth
Invitation to host a group at the Building on Dreams breakfast event
Monthly Dream Makers Society insider communications
Recognition of Dream Maker Society members at events
---
Become a dream maker now
Dream Maker Levels 
$10,000+ Platinum: Could provide four months or more of mental health therapy, helping youth overcome trauma.
$5,000-9,999 Gold: Could provide a month of meals and snacks to youth at Minneapolis Avenues.
$2,500-$4,999 Silver: Could provide a month of nursing support for youth in need of healthcare consultation.
$1,000-2,499 Bronze: Could provide a month's worth of personal hygiene products and basic necessities.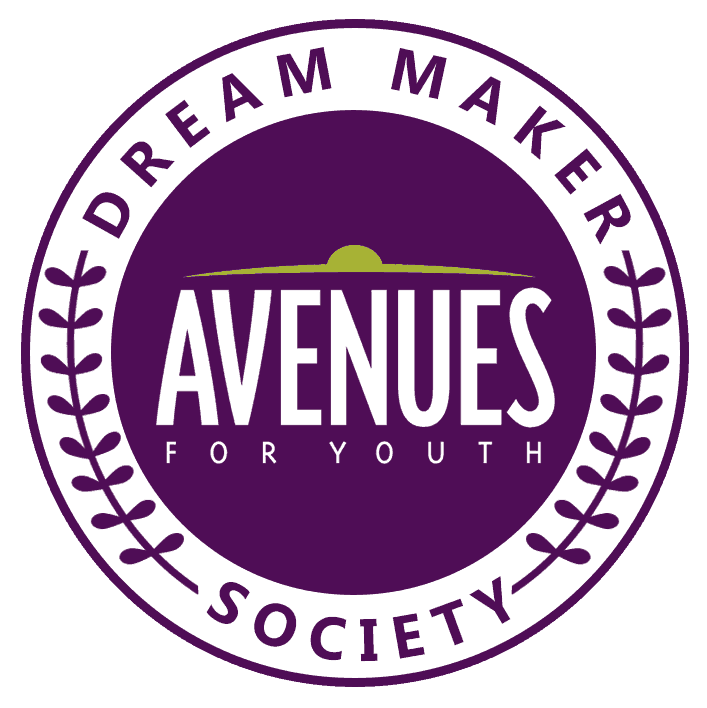 My dream is
By joining the society, you make youth dreams possible.
To learn more about becoming a Dream Maker, contact Melissa Cuff, Development Director, at mcuff@avenuesforyouth.org or 612-844-2012. A staff member will walk you through your first pledge payment after you fill out the above registration form or contact a staff member.