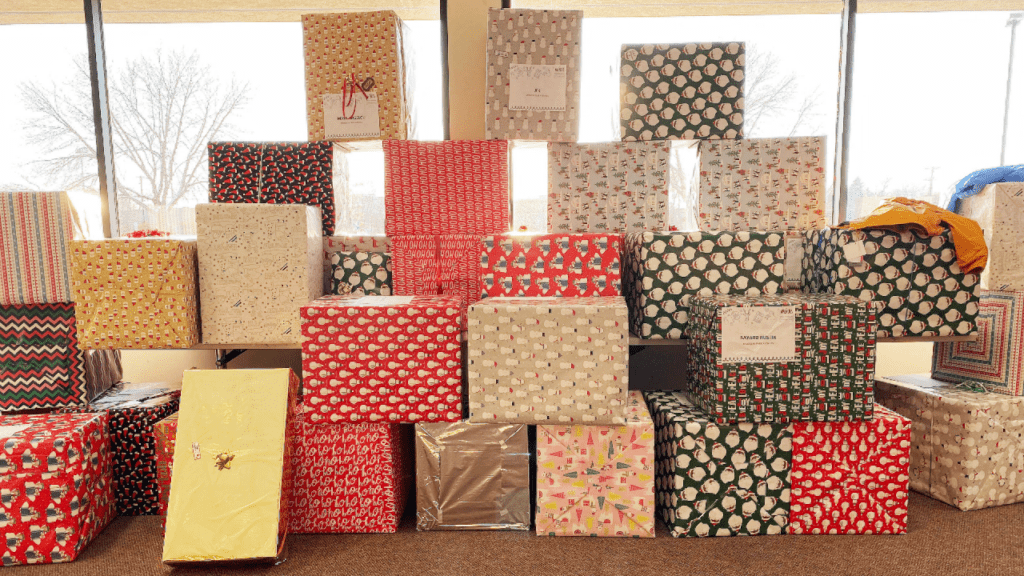 The holidays were made bright for youth at Avenues thanks to so many community partners and volunteers! In early November, youth and families in Avenues programs filled out holiday wish lists. Youth could be as creative and specific as they wanted as long as they stayed within a budget. Every youth asked from something different, and some of our favorite items included a drum kit, Crocs, fake plants for decorating, and Air Jordan's. Parents in our Young Families program were able to ask for items for their children too, and many asked for clothes, toys, and learning games.
More than 30 community partners and members "adopted" the wish lists, and every youth had their wish list shopped for. Partners also bought gifts for new youth coming into our programs in December, so that even if they didn't have time to fill out a wish list, they still got to open gifts this holiday season.

While this was going on, our friends at Minnesota Pride Rotary collected donations and shopped for winter coats. Thanks to their generosity, every youth in Avenues programs got to pick out a coat they liked, in their size, that Minnesota Pride Rotary bought for them. In addition to shopping for youth, Topline Federal Credit Union donated two holiday trees, garland, lights, and ornaments to make sure the houses were festive and bright. Bound with Pride also provided holiday decorations, and the Pride BRG at Thomson Reuters made handmade ornaments and cards for all the youth while hosting Avenues staff on their campus to learn more about youth homelessness.
On December 18th more than 40 volunteers gathered for a fun festive day at Avenues Annual Holiday Wrapping Party, sponsored by Comcast. Volunteers listened to holiday music, sipped hot chocolate, and wrapped hundreds of gifts for youth and families at Avenues. Gifts were put in big boxes for youth and delivered later that day. We nearly filled a U-Haul with gifts!

The holiday season is usually filled with messages of family and prosperity. For young people at Avenues, it can be hard to see these messages and feel excited during this time. Thank you to each and every partner who made this holiday season so special. Not only will youth have gifts to open, but personalized gifts that they picked out themselves. It means so much to know that someone is looking out for them. Staff had a blast delivering gifts last week and watching young people's faces light up.
Thank you, community!