Executive Director Deborah Loon to Step Down After 9 Years 
Deborah Loon, who has led Avenues for Homeless Youth as its executive director for over nine years, has announced her decision to step down this fall to pursue other personal and professional objectives. The transition to a new executive director will occur by October 1, 2017.
Avenues' board of directors is launching a search for a new executive director this month. Godson Sowah, board president, has named a search committee of five board members, chaired by Doris Pagelkopf, the board vice president. The committee is interviewing executive search firms and will share more information soon about the transition plan. Watch for another newsletter with additional detail.
Loon will remain fully engaged as Avenues' executive director for the next four months. To reach her, email dloon@avenuesforyouth.org or call 612-844-2002.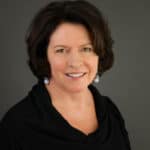 Loon joined Avenues in early 2008 as its interim executive director, at a time when the organization was facing financial challenges. After leading a financial turnaround, she found she was hooked by the work and people of the organization. She accepted the board's invitation to remain as permanent executive director, parlaying a nine-month interim assignment into a nine year journey of personal and organizational growth.
During Loon's tenure, Avenues has expanded significantly to support more youth annually, while simultaneously deepening services to achieve stronger outcomes for youth. Today, Avenues supports more than 300 homeless youth every year through six programs and with a budget of $2.8 million.
"I've been immensely honored to play a leadership role at Avenues for nine years," Loon said, in announcing her decision. "Avenues is a special organization."
"It has been such a privilege to help thousands of young people move from surviving homelessness to thriving young adults," Loon added. "It's both humbling and inspiring every time a young person drops by my office or stops me in the hall to share a success or challenge. I will miss that."
"I have had a front-row seat watching Avenues' dedicated staff and volunteers. The people drawn to this work do so selflessly," Loon said. "They embrace each young person's self-determination. They provide patient, trusted guidance and tireless advocacy, even allowing youth to make mistakes and learn from them. They never give up."
"Avenues is in good hands. We have a strong leadership, management and direct service team at Avenues today," Loon said. "I am proud of all we have accomplished and optimistic about Avenues' future."
Board President Sowah said, "We are grateful to Deb Loon for her dedicated leadership to Avenues. She has assembled a strong leadership and management team, and has embraced an organizational culture that makes Avenues a place where a diversity of people choose to work. Avenues reflects the best of our community."
"While we are sad to see Deb leave, we know Avenues is in good health and well-positioned to continue providing excellent support to homeless youth and the community," Sowah added. "I am confident we will find a new executive director to lead the very capable and committed team at Avenues."
Loon concluded, "While working at Avenues, I've seen first-hand the vexing social justice issues that cause and perpetuate poverty and horrible disparities in our community, which lead to homelessness. We will not truly end homelessness and recognize our community's full potential until we address those social justice issues. My hope is that we, as a community, can make real progress soon."
Avenues for Homeless Youth Today 
Avenues for Homeless Youth was created in 1994 to provide shelter, short-term housing and supportive services for young people experiencing homelessness. The organization remains focused on this critical mission almost 23 years later.
Avenues has expanded strategically in recent years and today operates six programs serving homeless youth. Brooklyn Avenues, the agency's second youth shelter and transitional housing program, opened in 2015 in partnership with the City of Brooklyn Park. It was modeled after Minneapolis Avenues, the youth shelter in North Minneapolis that expanded to 21 beds in 2012.
Two additional host home programs have been created recently, modeled after Avenues' well-known GLBT Host Home Program — the ConneQT and Minneapolis & Suburban Host Home Programs.
Avenues for Young Families launched in early 2017 to provide housing and supports for youth-led families that are homeless.
While growing, Avenues has also invested in deeper services to ensure young people get the specialized, holistic support needed to help them move into young adulthood. Additional services include health and wellness support, specialized education and career support, and longer-term after-care support and life skills training.
Avenues' budget has grown 400% from $700,000 in FY08 to $2.8 million for FY18. The organization has net assets of just over $2 million today, up from a negative number when Loon joined in 2008.
Avenues relies today on generous contributions from individuals, foundations, businesses, faith and civic organizations for 56% of its budget ($1.6 million). The balance of the $2.8 million budget is government grants and contracts ($1.2 million).