A Mother Introduced to Avenues by her Daughter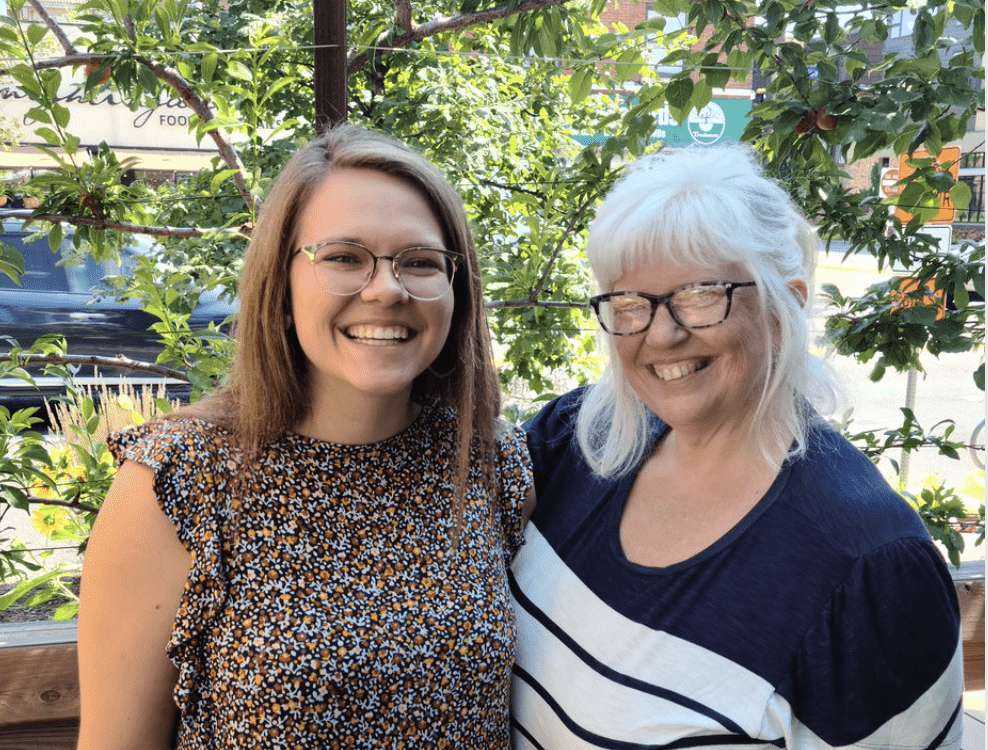 Sheri Johnson has been supporting Avenues for over six years. She is a Dream Maker, a board member, and a wonderful friend of Avenues. However, Sheri's daughter, Emily Beck, is the longtime Avenues supporter of the family. Sheri and Emily recently shared their story with Avenues staff. Read their interview below:
How did you first learn about Avenues?
Emily: When I was in college, back in 2014, I volunteered at Brooklyn Avenues right around the time that it opened. It was such an eye-opening experience for me. A few years later, when I was invited to attend Building on Dreams at the Walker Arts Center, I asked my mom, Sheri, to be my guest.
Sheri: It was nice to hear about Avenues from Emily and get involved in this cause that she cares about. The mission spoke to my inner mom because I believe that all youth should have a place to call home with trusted adults. So, when Emily invited me to Building on Dreams, I said yes.
I later attended a community event in Brooklyn Park where youth homelessness was the topic. There were representatives from Avenues, the school district and the police department all discussing the complexities of the issue. At that event, I filled out a form and shared that I was interested in learning more about board opportunities.
Sometime later, I got a call about board membership, and I said yes. At the 2019 Building on Dreams event, when Avenues launched the Dream Maker Society, I joined because it was so easy. Breaking up the gift into smaller monthly gifts makes it very doable. Now I'm the one inviting Emily to events!
What inspires you about Avenues and the youth?
Emily: I've spent a lot of time with youth in college and through my church. Avenues made me feel like I could make an impact on the youth by giving my time as a volunteer and making gifts as a donor.
Sheri: I know in my own life I've had people believe in me before I believed in myself. And I think Avenues is that for youth. I think of youth as our next generation and our future. So, what I connect with most about Avenues is that the staff support youth in achieving their dreams. Everyone deserves to dream and feel supported in reaching for their dreams. One of the things that I love the most about Avenues is the belief that youth are resilient. Their lives are not tragic or broken and youth just need a little bit of support to get to where they want to go.
"I know in my own life I've had people believe in me before I believed in myself. And I think Avenues is that for youth."
What was your dream job as a youth?
Emily: My dream was to be a singer! I sang for fun and in choirs over the years.
Sheri: My dream was to be a go-go dancer! That was the cool thing at the time, and I loved watching the go-go dancers on TV.
What is one thing that you would like to share with your fellow Dream Makers?
Sheri: Every gift matters! Don't think that your gift is too small because together we can have a big impact. I would also encourage Dream Makers to find a youth to engage with in their life. That might be a friend's child or a niece or nephew, or your own child. You can be a trusted adult for a youth. I've found that being involved in my children's lives and in their friends' lives has helped me realize why Avenues is so vital for our community.
Is there anything else that you'd like to share?
Emily: It has been neat to see how my jobs over the years have allowed me to connect with Avenues in different ways. I'm currently working at the Wedge Co-op on Lyndale, and I was happy to receive an inquiry from Avenues about community giving opportunities. It was so fun to get connected to Avenues in this new context and explore how to support them in a new way.
To connect your friends with the Dream Maker Society, visit here, or contact Melissa Cuff, director of development, at mcuff@avenuesforyouth.org or 612-749-7345.