When you partner with Avenues for Youth, you make a difference in the life of a young person experiencing homelessness. Community partners help provide vital support and dollars, advocate for equity, and learn about the root causes of homelessness. Thank you to our incredible October partners!
Boston Scientific Shows Up in a Big Way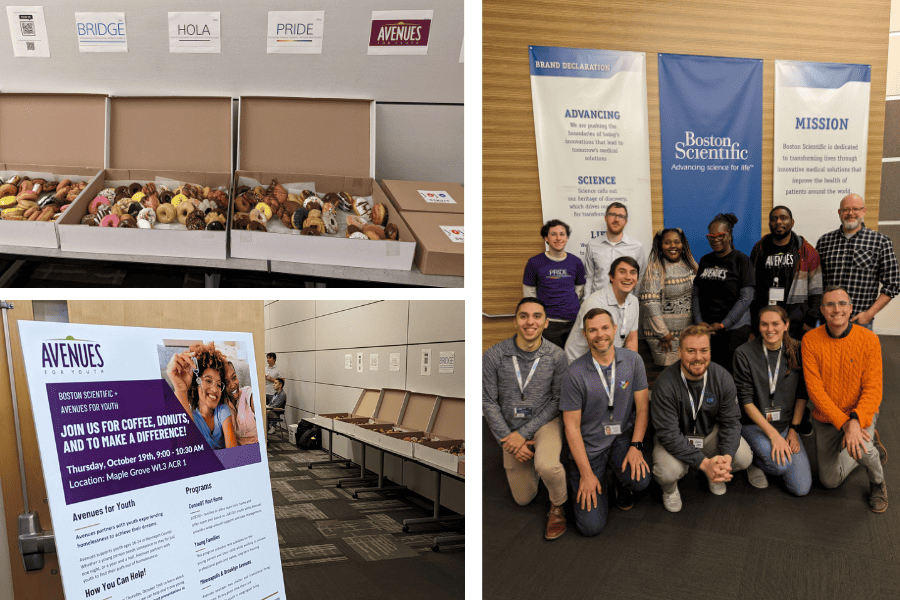 Boston Scientific showed up for Avenues in a big way last week! Several employee groups got together to host an event that spread awareness about youth homelessness and raised funds for Avenues. What's more, employee donations are being matched by Boston Scientific, doubling the impact of each gift!
Thank you to PRIDE, BRIDGE, HOLA, FIRE, LEAD, and LEAP for making this possible! We want to give a special shout-out to Scott, Eddie, Jack, Sea, and Logan for their part in organizing. We deeply appreciate everyone who promoted the event, attended, and donated. A big thank you as well to Makeda, Kunta, Ryan, and Karesia for attending the event to share about Avenues' programs!
Lathrop Shows Their Pride!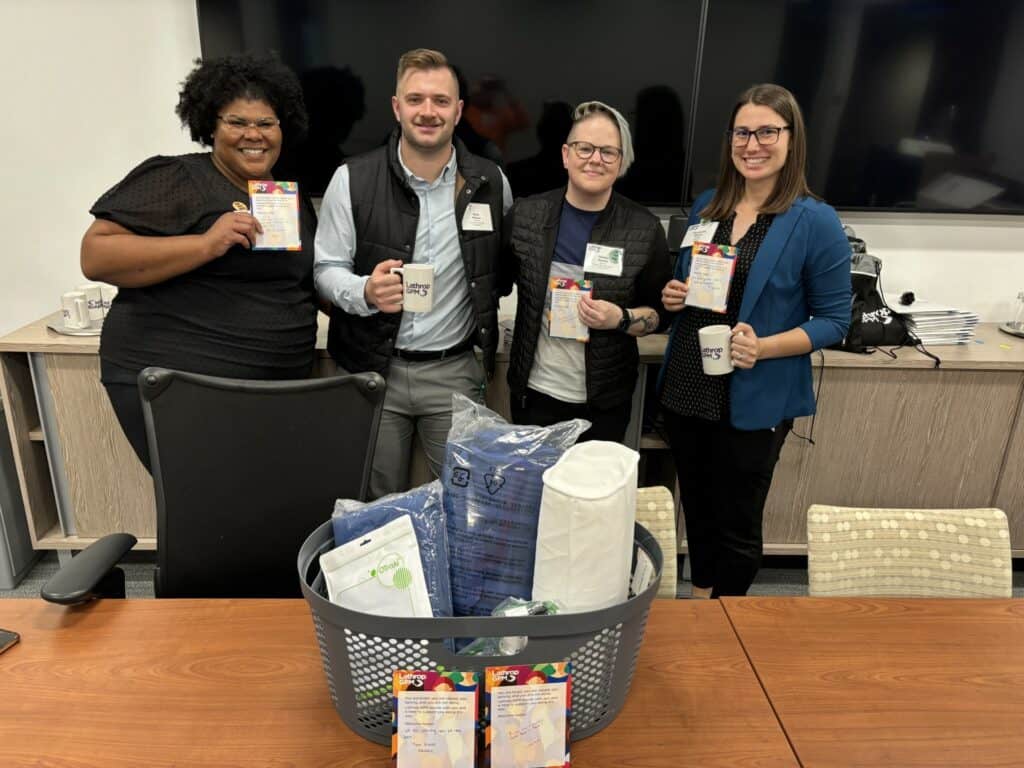 Lathrop GPM's Pride ERG assembled members from Kansas City, Chicago, St. Louis and Minneapolis on Thursday the 19th of October. In the spirit of spotlighting the strength and pride of their LGBTQI+ employees, this major law firm once again highlighted Avenues for Youth and the ConneQT Host Home Program.
The firm hosted Avenues for Youth for an onsite activity of building apartment kits for youth exiting the ConneQT program into their own stable housing. Blankets, pillows, bathroom and laundry supplies and cleaning products were all neatly bundled into handy clothing hampers. Each basket got a special handwritten note of encouragement and support from fellow LGBTQI+ community members. Lathrop also graciously gave a big platform to speak to their downtown Minneapolis firm about the program and how they are truly making an impact.
Thank you to Ryan, Vanessa, Nicole, Andrew, Michael, Gabby, Shoshanna, Jodi, and everyone who made this experience not only a success but also super fun.
Messiah Methodist Makes a Mexican Meal!
What is one of the best ways to show your love? Through food! For the first time in years, Avenues for Youth welcomed community cooks back into our kitchen to prepare a delicious meal for young people living at Brooklyn Avenues.
Messiah United Methodist Church of Plymouth sent a group of volunteers to make an absolutely delicious Mexican meal earlier this month. The meal was made with love and lots of laughter. The addition of double chocolate brownies spoke to the hearts and bellies of the staff and youth alike. This faith friend also featured Avenues during their Second Mile Offering, where they collect donations and volunteer for local organizations.
Thank you to this wonderful congregation and our new friends, the volunteers, who spent a weekday night giving the house a wonderful home-cooked meal.
Synchrony Shows Their Love with Food!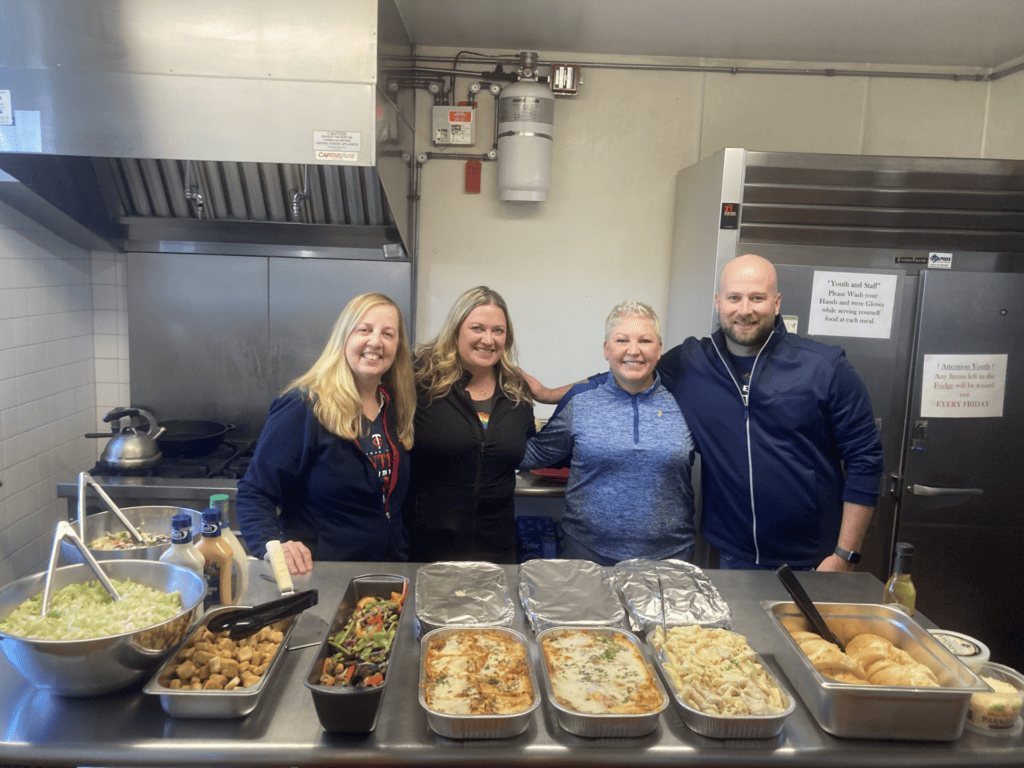 Our longtime friends at Synchrony are famous at Avenues for Youth for showering the shelter with food. Last year during a National Coming Out Day activity they brought enough sandwiches to feed a crowd.
This year, the team came prepared to feed the 20 residents of Minneapolis Avenues a delicious dinner, plus enough for seconds and leftovers the next day. "Family Italian" was the theme, and it was both.
Tray upon tray of lasagna, chicken fettuccine, roasted vegetables, two types of tossed salads, and French bread with garlic butter awaited hungry youth and filled the house with an aroma of amore! Cookies and assorted sodas were also provided to round out the meal.
Synchrony showed up not just to make a meal, but to make memories for youth, staff, and volunteers alike. Thank you, Synchrony! You all are welcome back anytime!
Top Friends from Topline Financial Credit Union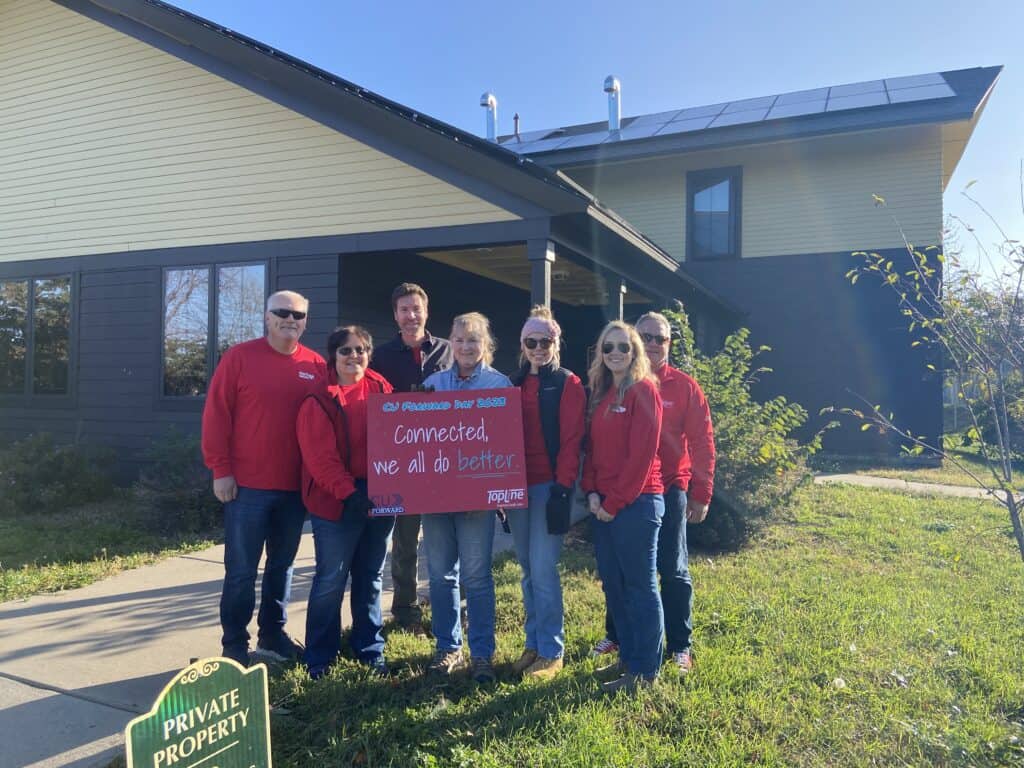 TopLine Financial Credit Union is not just one of the best community partners to Avenues for Youth; they are also friends.
Recently, the Topline team took part in CU Forward Day – a Minnesota state-wide initiative of credit union's employees, members, and partners who are passionate about helping people.
For the past few years, Topline has shown up to our Brooklyn Avenues shelter to mow, mulch, trim, weed, wash, sweep, and do anything else asked of them. They do it with purpose and with passion.
This year we got to work with Bob, Coleen, Jeff, Renee, Marie, Meredith, and Alan. Six of the seven were repeat volunteers and it was a pleasure to reconnect with old friends as we prepared the grounds for the impending winter. Because of the consistency and authenticity of the Topline Community, these relationships have solid roots and Avenues is a more impactful organization because of it.
Thank you is too small of a word for our Topline friends. You make our work possible!
Want to Get Involved?
Avenues will house and support more than 250 youth in Minnesota this year, and it takes a community to do this work. As a faith group, corporate partner, business group, or civic group, you can partner with Avenues in a way that feels right for your organization.
To learn more about ways to partner with Avenues for Youth visit: https://avenuesforyouth.org/community-partners/